The Chevy Big Block engine is known for producing big power since the 1960's and Prestige Motorsports - 632ci Air Boat Engine Package holds up to that tradition!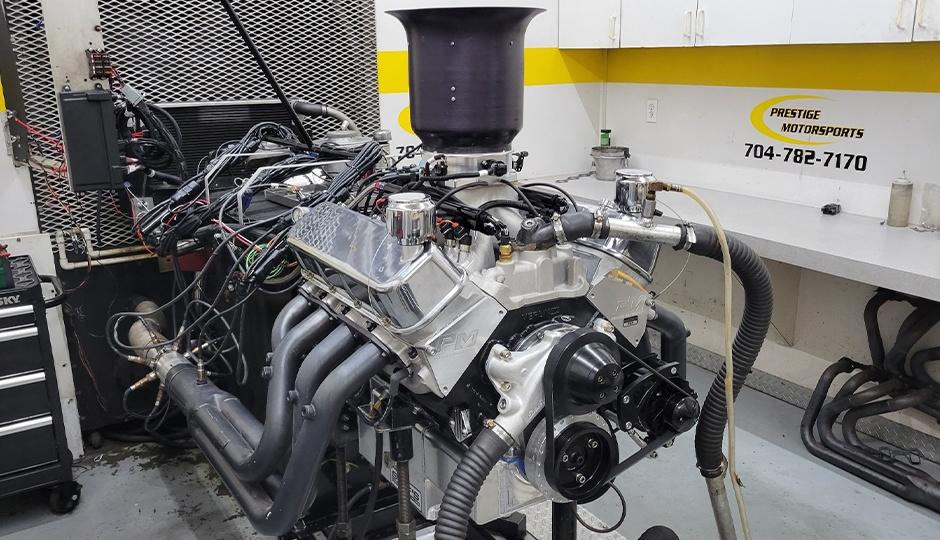 We start with a World Products Merlin IV iron block and add a set of 2618 Forged Aluminum Pistons, 4340 Forged Steel Crankshaft, H-Beam 4340 Forged Steel Connecting Rods, Prestige Motorsports - Offshore 350 CNC Ported Aluminum Cylinder Heads, PM Custom Ground Hydraulic Roller Camshaft, and a Stef's Fabrication Marine (Air Boat specific) Oil Pan.
We use Holley HP EFI Engine Management a Holley 2000CFM Throttle Body and Holley Fuel Rails for consistent and tunable fuel delivery.
Once the engine has been machined and fully assembled, we set it up on the engine dyno for tuning with Holley's HP EFI software and make some short pulls, plus "steady state" high RPM sustained pulls to simulate the way an Air Boat runs, with an eye on oil pressure and engine temps. We fine tune the engine with (8) O2 sensors for optimum air/fuel ratios and maximum performance. Here we are calibrating the oxygen sensors before dyno tuning.
Once dyno tuning is complete, the engine is removed from the dyno, and we box it up in a hand-made wooden crate and ship it off to one of amazing our customers.
After installation in the air boat, the customer will be able to fire it up and enjoy the massive 820HP+ produced by this pump gas, 632ci Big Block Chevy Air Boat engine for years to come!
Engine Specs:
Horsepower: 820+
Torque: 840+
Bore/Stroke: 4.600 x 4.750
Compression: 10.5:1
Fuel Type: Pump Gas, 93 AKI (USA) / 98 RON
Block: Aftermarket 10.2, Iron
Crankshaft: 4340 Forged
Rods: H-Beam, 4340 Forged Steel
Pistons: 2618 Forged Aluminum, Gas Ported
Bearings: Clevite H-Series Coated
Camshaft: Hydraulic Roller
Heads: PM Offshore 350 Aluminum, CNC Rectangle Port
Valves: Ferrea Super Alloy Exhaust, 6000 Series Intake
Rocker Arms: Billet Aluminum, Full Roller, Girdled
Intake: Custom Pro-Filer Sniper Aluminum
Oil Pan: Marine
Throttle Body: Holley 2000CFM, Billet Aluminum
Valve Covers: Polished Aluminum, Custom Made Dual Breathers
Power Adder: N/A
Fuel Delivery: Holley HP EFI
Ignition: Dual Sync Distributor
Call Prestige Motorsports for more details on this engine or to get a quote for your next project!
Also be sure to check out our Remote Tuning Service online or call Prestige Motorsports.