One of the benefits we have as a professional engine builder and performance shop is that we get to experience the same scenarios as the do-it-yourselfer. Instead of building an engine, shipping it off, and wishing our customer good luck, we can take our engine, install it in the customer's vehicle, and experience that process and its hang-ups. Having first-hand experience allows us to pass wisdom onto other enthusiasts in order to prepare them for what may lie ahead.
It also means we have opportunities to try out new products and pass our experience on to you. We have the ability to put together a package that will allow the do-it-yourselfer to accomplish their projects with proven products and processes without having to experience the expensive and time-consuming hang-ups.
When Should You Consider a Fuel System Upgrade?

There are several scenarios that would require you to upgrade an existing fuel system. An engine upgrade is a logical situation. If you are installing a new engine that is packing a bunch more horses under the hood, then you better make sure you have enough fuel supply to quench their thirst. That includes looking at feed and return line size in addition to pump capacity.
A common scenario today is when converting from a carburetor to fuel injection. Carburetors use a low-pressure fuel supply. This is typically in the 6 to 8-psi range. Fuel injection requires a high-pressure fuel supply of 40 to 60-psi and even higher for boosted applications. An electric pump and high-pressure regulator are required for electronic fuel injection (EFI).

The scenario we ran into with our customer's 1969 Camaro was that the block used for his Prestige Motorsports 408 Stroker was not machined for a mechanical fuel pump. This is becoming a popular scenario since carburetors have not been installed on a factory vehicle for several decades. No carburetor means no mechanical fuel pump mounted to the block. The mounting provision and location are still provided, but the hole for the fuel pump push rod is not.
We could have machined the hole and left the fuel system unchanged. Instead we seized a perfect opportunity to try out the new Aeromotive Gen II Stealth Fuel Tank. It comes equipped with the in-tank electric pump, award-winning Phantom Baffle technology for superior fuel slosh control, and a fuel-level sending unit installed and ready to go. An added benefit is that if our customer ever wants to switch to fuel injection, everything they need for fuel supply is already in place. A pressure regulator change is all that is needed.
Aeromotive's Power Planner is a great resource to help you determine your connection points.
Aeromotive Gen II Stealth Fuel Tank Installation

The first step in installing your fuel system is to plan the layout of lines, wires, and components. Supply and return lines need to be tucked away from moving parts and the exhaust. The fuel filter and pressure regulator should be in accessible locations. Fuel supply packages from Prestige Motorsports include a fluid filled pressure gauge that should be viewable under the hood. This allows you to monitor pressure as you adjust. Our gauge was mounted on the fuel log attached to the carburetor.
Our Stealth fuel pump also needs a 12-volt power source. We used Aeromotive's premium heavy-duty fuel pump wiring kit that comes with the fuel supply package from Prestige. The wiring kit includes everything needed for a successful installation. No additional wiring was required for the fuel level sending unit since the Gen II tank is designed as a plug-and-play unit.

To remove the old tank, we first disconnected the battery and emptied the old tank and lines. After disconnecting the filler neck from behind the license plate mount and removing the tank straps, we lowered the tank from the rear of the car. Although the tank comes powder-coated in silver, we painted our new tank flat black before strapping it back into place using the existing mounts. The second-generation tank from Aeromotive allows for a flush mount installation. You do not need to space these tanks down to clear the floor as you would with a retro-fit kit.
Next, it was all about running the fuel lines and wires toward the engine compartment. We used Adel clamps to tie the lines to the frame rails and under body. We added the fuel filter in an accessible location on the supply line.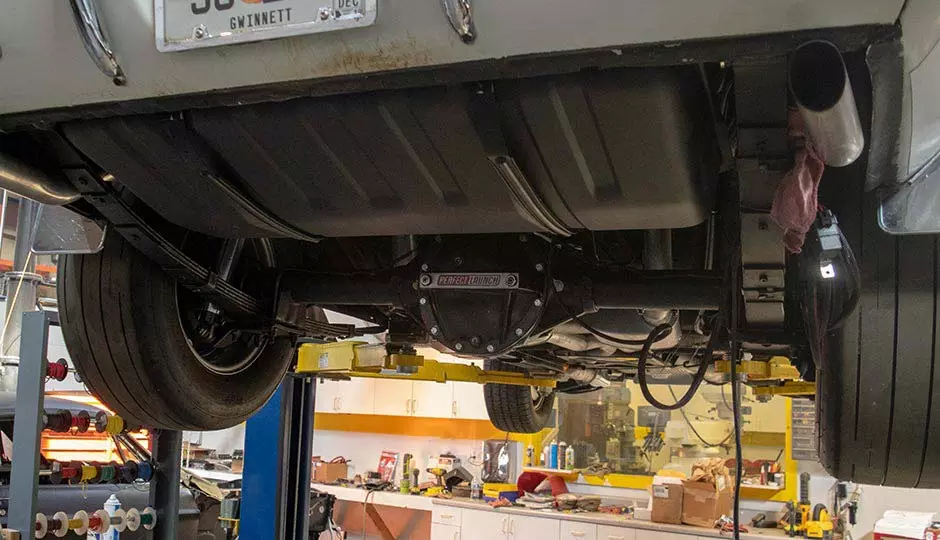 After following the frame rails, we routed the lines through the front fender well and looped into the fuel pressure regulator which we mounted below the battery. We used a thermal protection sleeve on the lines where they passed near the headers. Wires were connected to the relay we mounted near the battery.
We set the fuel pressure at 6.5-psi and checked for leaks before starting the engine. It is important to note that liquid filled gauges are sealed. Temperature and atmospheric pressure changes will cause variances in pressure readings. Therefore, the pressure gauge has a vent valve that must be used to equalize pressure inside the gauge with atmosphere to get accurate readings prior to adjusting.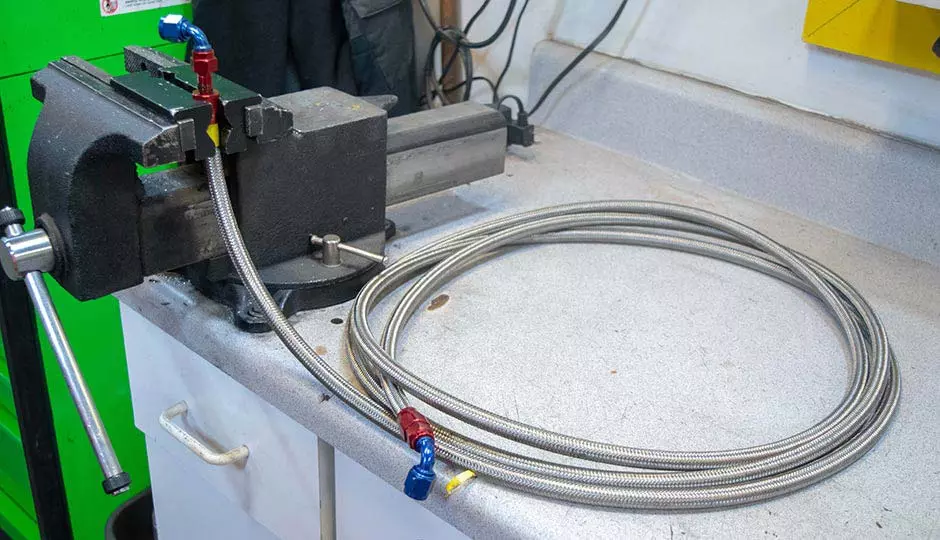 When you purchase a fuel supply package from Prestige Motorsports, you won't just get a fuel pump and lines. Our turn-key performance fuel supply packages feature everything you'll need for a successful install.
Retro-Fit Kit or New Fuel Tank
High Pressure In-Tank Fuel Pump
Pressure Regulator, Carbureted or EFI
Fluid Filled Pressure Gauge
Braided Fuel Line, AN Fittings & Wiring Kit
Whether you want to retro-fit your existing fuel tank or add a new one with the in-tank fuel pump already installed, our pros will customize your arrangement to make sure nothing is left out. Aeromotive makes a great product with their new Gen II Stealth Tanks and it shows with the smooth installation process and the result. Prestige Motorsports does installs like this on multiple different vehicles and we have the knowledge, the experience and the passion to get it done right the first time.