Can you believe we're already in the later half of winter? It's almost Spring! Time to start thinking about your project car builds and get things in gear for nicer weather! We've been slammed busy to kickoff 2020 and we don't expect things to slow down anytime soon. We wouldn't have it any other way!
Borla Stack Height Testing Video:
As most of you probably already know, we do a lot of Borla Stack Injection kits on small block Ford combinations. We ran one of our 500Hp 427 Windsor combinations on the dyno, testing three different stack heights, 35mm, 50mm and 100mm. Take a look at the video below to see the results!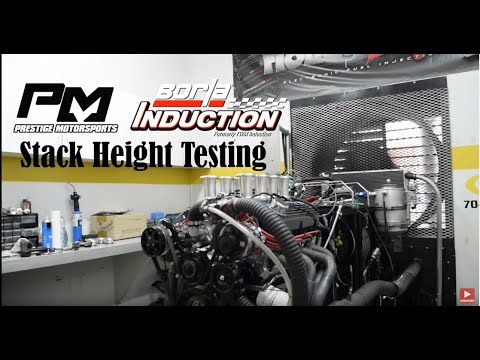 LS 408 Stroker on the Dyno Video:
We had a customer send us just about every single part for a stroker LS build in which we recently ran on the dyno for him. Callies crank and Wiseco Pistons along with a FAST LSXR EFI and many other goodies. This LS pulled 547HP and 519TQ on the dyno with the customer watching before he took the engine home with him that afternoon. Take a look at the video here!.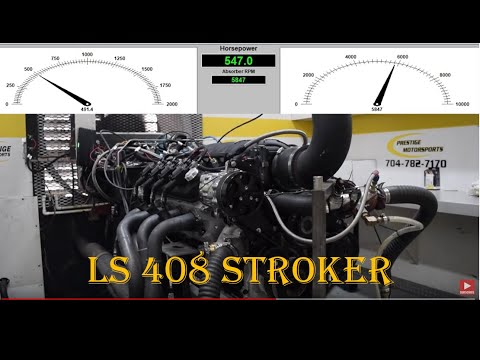 Heath's 408 LS Stroker On the Dyno at Prestige Motorsports - 547HP/519TQ
Chevy Engine Installs, '55 Bel Air and '69 Chevelle:
We've got two major engine install projects going on in our performance shop currently. First we have a beautiful '55 Bel Air in which we are installing one of our custom painted 383 stroker engines under the hood. This engine was rated at 420HP but pulled 463HP and 471TQ on the dyno with our new aluminum heads and the Holley Multi Point EFI.
The second install is a '69 Chevelle in which we pulled out the owners 396ci engine and replaced it with one of our 489ci Big Block Chevy Stroker engines. This is going to be a great little combination. We do engine installs like this all the time here in our performance shop.
Many people don't even know that Prestige also does work on cars and trucks but we have a full shop here daily with a plethora of different jobs being done. Give us a call if you're interested in a car build, engine install, supercharger, turbo, etc. and we'd be happy to schedule a time to discuss the build.
'57 Bel Air Starts for first time in 20 years:
We had a customer reffered to us from Borla with this absolutely gorgeous '57 Bel Air that was initally built 20 years ago and had still yet to fire. We completed final wiring on the vehicle and got the Borla stack injected engine fired up for the first time at our shop last week. The customer was incredibly happy with the work and has taken delivery back on his car to complete the build himself. He will definitely be coming back to us for any future jobs.
Be sure to follow our Facebook, Instagram and Youtube pages as we post new content daily from the shop. Everyone have a great rest of your day today!