We're ramping up our LS and LT engine combinations here at Prestige for 2020. To start, we have another great promotion going with Holley in which we built a twin supercharged LS to be GIVEN AWAY FOR FREE from Holley! Yes, you heard that right! With that going on, we have been developing dozens of new LS engine combinations here in our engine shop and are finally ready to release them all. Everything from short blocks to complete turnkey all aluminum works of art. Check them all out in this weeks #StayTuned Blog!
TWIN TORQSTORM SUPERCHARGED 427 LS SWEEPSTAKES - SIGN UP FOR FREE!:
Big news last week as we will be once again giving away an engine of ours with Holley! We beefed it up a bit this time though with a 427 LS Twin Supercharged monster! Any one of you can signup to win FOR FREE at www.holley.com/win. We started our 427 off with a Dart LS Nest Pro Iron Block and utilized an Eagle forged crank and Eagle H-Beam Connecting Rods. DSS Racing provided us with forged 2618 pistons and rings and our partners at Comp Cams provided us with a custom ground camshaft. The top is all Holley with the new Lo-Ram intake manifold, LS 95mm throttle body and of course the Holley Terminator X EFI.
This engine will be on the dyno here at Prestige very shortly and we can't wait to see the power numbers. Definitley not your average engine for a free giveaway but hey...why not?!? Keep your eyes out for the next blog as well as our social pages for much more on this engine, the giveaway and of course, the dyno run! Contest runs through June 22nd so you have plenty of time to take a minute out of your day and sign up at Holley.com/Win. Good luck everyone!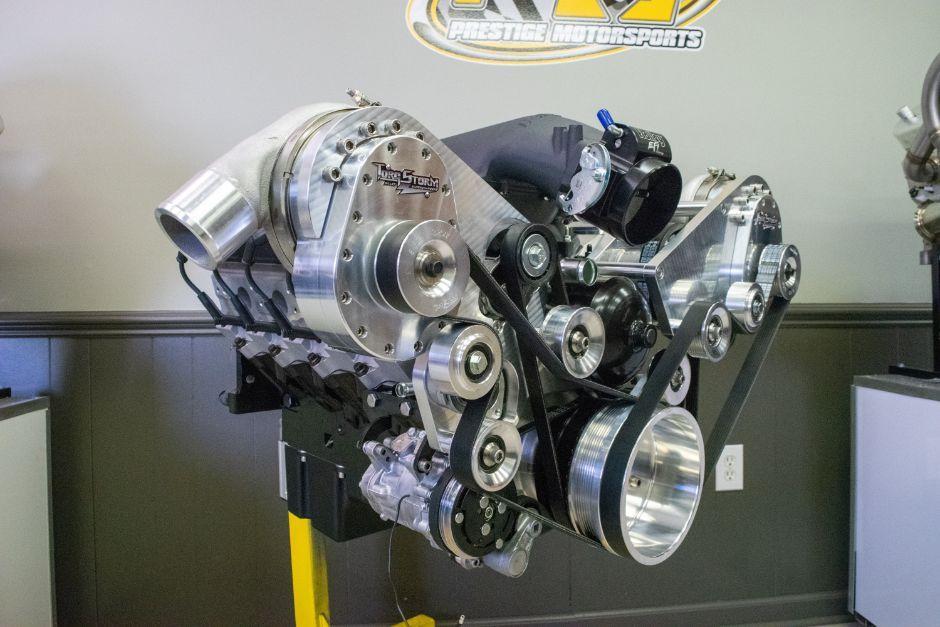 \
ALL-NEW LS AND LT COMBINATIONS FROM PRESTIGE:
For all of you LS lovers out there, we've got a ton of new combinations now available. Hours and hours of testing and development in our dyno room and now we're ready to release them all to the world. Visit our LS page see all our new listings and see which one might fit the bill.
We're also in the process of putting together some new LT engine combinations so keep your eyes open for much more in that world as well.
Don't forget, all of our engines are 100% customizable and built-to-order so if you have a certain combination in mind, just let us know and we can work with you on the build. Stay Tuned for much more from Prestige in the LS/LT categories and more turnkey options across the board as well.
416ci All Aluminum LT Shot Block - $5,499
Be sure to follow our Facebook, Instagram and Youtube pages as we post new content daily from the shop. Everyone stay healthy out there and we can get through this together!