A Truly Exceptional Experience
Bringing your dream to life should be fun and exciting, not stressful or unpredictable. Here at Prestige Motorsports, our process for establishing and delivering an order is just as custom as the work we do on cars.
This is about more than a car and a mechanic. This is about your unique vision combining with our extensive experience to deliver a one-of-a-kind car that's worth getting excited about.
Buckle up. We're about to create the ride of a lifetime.
Total Transparency
The ordering process at Prestige Motorsports is decidedly different. We want you to know just what to expect every step on the way. We'll keep you informed on our progress, and we'll use WhatsApp to send you videos documenting what's been done. When you get your bill, it will be itemized, and you'll know exactly what you're paying for.
During the ordering process, we'll establish:
Specific Goals
Clear Expectations
Common Road Blocks
Proactive Project Plans
How to Make Changes
Costs & Billing
Plans for Future Communication
Here is a very detailed video with Prestige Motorsports President, Doug Aitken, explaining in great detail how we go about quoting out a custom-built performance crate engine here at Prestige Motorsports. Doug details out exactly how we start with a base engine and add each component to the build.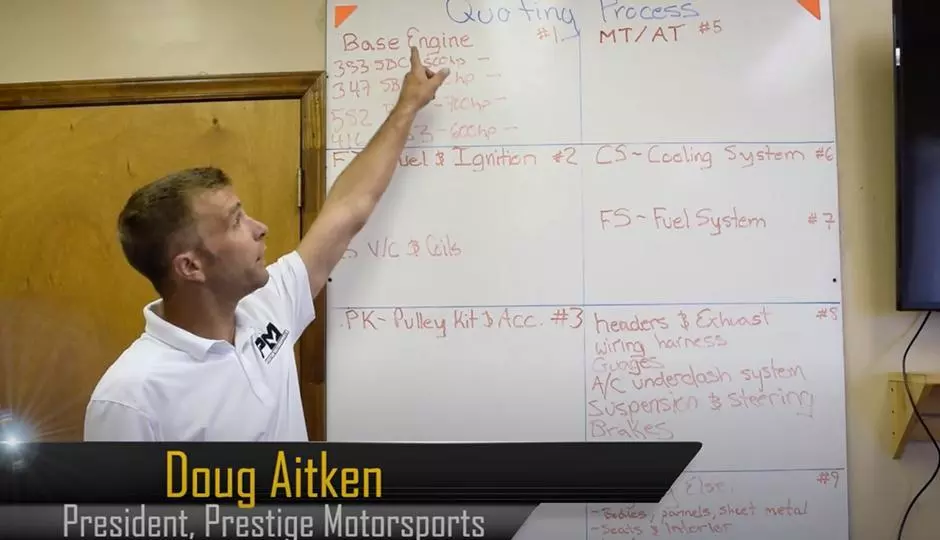 Give us a call anytime and we can work with you on exactly what you need to get your ride going sooner rather than later and with quality components that come with a three-year unlimited mile warranty.
Goal-Driven Design
Whether you're buying just a crate engine or an ultimate turn-key package, you'll go through the same personalized process. You bring the vision; we bring the guidance. It all starts with the specific goals you've set for your vehicle. Because every system in a car needs to work together and support the overall vehicle application, planning begins with the systems responsible for achieving your goals. Since we build cars, we have the experience to walk you through what works and what doesn't. Our priority is helping you spend your time and resources wisely so that you can enjoy your vehicle, not spend countless hours and dollars trying to get it all to work together.
An Engine-Centric Example
When you order a custom engine from Prestige, our unparalleled customization process starts with an exhaustive intake appointment where our pros are on a fact-finding mission about your vehicle. We'll start with how you intend to use your car, then break down all the systems that will impact vehicle performance. We'll discuss desired power level, looks, sound, drivability then get into engine fitment, fuel delivery, accessories, transmission, fuel supply, cooling, and exhaust. By addressing all these areas up front, we ensure that your custom estimate is complete and contains the best components available for your unique build. Once you've paid your deposit, you shouldn't expect radio silence. You'll get photos and stats from the dyno session on your engine. We'll also check in via WhatsApp to keep you informed on our progress. If you ever have a question or concern, we're just a phone call or email away.
Discover Prestige Motorsports' Personalized Process
To get a taste of our truly collaborative customization process, contact us today to schedule an appointment. An experienced member of our team will gather details on your vision and let you know what to expect throughout your build. No matter what shape your vehicle is in, where you are in your customization, or how much experience you have, we'll take you the rest of the way to achieving your goals. Get started today.