We love Fox Bodies! We also love when Fox Body Mustang's choose Prestige for the power. Daidrian has been just a great customer to deal with and is really making things happen getting our 554HP 363ci small block Ford installed into his '86 Fox.
"I found Prestige Motorsports through Tony Frank AKA suicidekings2 on Instagram back in 2019 after hearing his car in person and talking to him about his experience with Prestige," said Daidrian. "I was watching a couple of videos of engine builds on their YouTube channel and I knew I needed a motor from them!"
Tony Frank's Fox Body Mustang with our 363 under the hood has gotten us a lot of attention in the Fox body world. Be sure to follow him on Instagram at @suicidekings2
"I have owned my Fox since 2017 and daily drove it throughout high school being my first and only car," explained Daidrian. "I slowly modified it while driving it and after graduating high school the real work started. I slowly started buying suspension pieces to get it ready for the motor I knew I was eventually going to get!"
His Fox is currently sitting on a Full BMR suspension including their torque box reinforcements upper and lowers, all of their tubular arms and a road course K-Member. Other items on his Fox include SVE full-length subframe connectors, Braum seats, SN95 built rear end with 3.73 Ford Racing gears and forged Fox length Moser axles, front 13 inch cobra brakes with tons and tons more.
"Working with Prestige Motorsports was a great experience and I will never go to another engine builder for future projects," he said. "They make you feel like family and will always put you first! Working in the automotive industry and working with vendors directly I can tell you first hand you will never receive that anywhere else!"

The engine we built him is based off the World Products 302 block bored 4.125" and stroked 3.400" for 363 cubes. AFR 195cc aluminum CNC heads with a Holley Hi-Ram Side-Mount intake controlled by the Holley Terminator X Multi Point EFI system.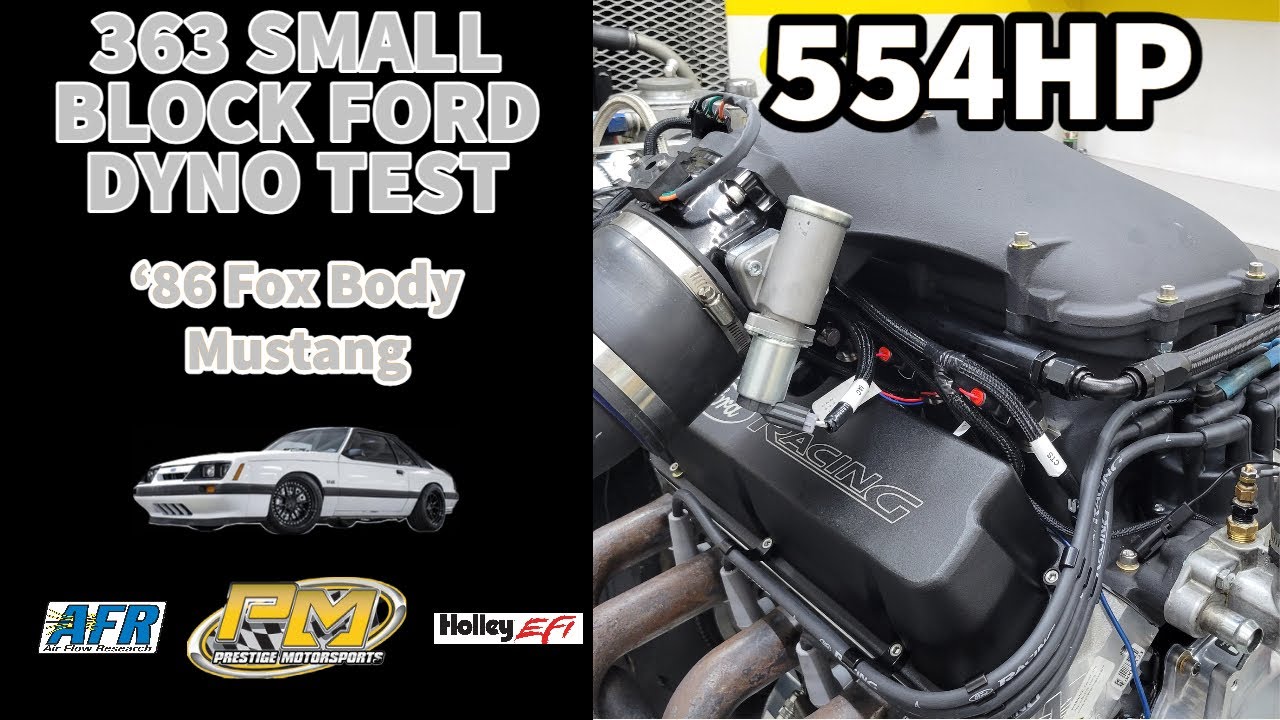 Daidrian has some big plans for his fox. The engine was built for street/road racing and that is exactly what he plans on doing with it. He has a Tremec TKX manual trans coming in the next few months as well as paint and new wheels. "For now, I will be just enjoying the hell out of the 363," he said.
"Save up for the things you want and don't rush the process," said Daidrian. Be patient and I promise it will be worth it. It took me two years to save up for my dream motor. Building cars takes time and being 16 at the time of purchasing my car to being 23 now that is something I have had to learn along the way!"
Some wise words from a young man living his dream with his Fox. Love to hear this and could not be more happy to work with great customers like Daidrian. If you would like to follow along with his Fox on social media, you can go to his Instagram profile here @daidrian_sairu
Check out this short video on Daidrian's journey and the first fire-up HERE.